Johnston Honey Soap Packaging
Following the successful rebranding of Johnston Honey, the MN-based gourmet honey company was ready to expand upon their honey merchandising by launching a new line of hand-blended, all-natural body soaps marketed to upscale gift shops. Once again, the challenge was to create a competitive product that still felt accessible and playful to their core base of customers. Jodi consulted with JH in several aspects of the product development, from determining the bar size to scent naming. Some names were derived from popular blends (ex. Oatmeal, Milk & Honey), while others had a stronger Midwestern connotation (Minnesota Musk, Autumn Harvest). The bars were wrapped in a very tactile, uncoated paper, giving them a natural/organic feel. To promote the soaps' captivating scents, as well as each bar's visual and textural appeal, a "sniff zone" was strategically placed on the top of each bar. Playful bee illustrations were also incorporated into the packaging.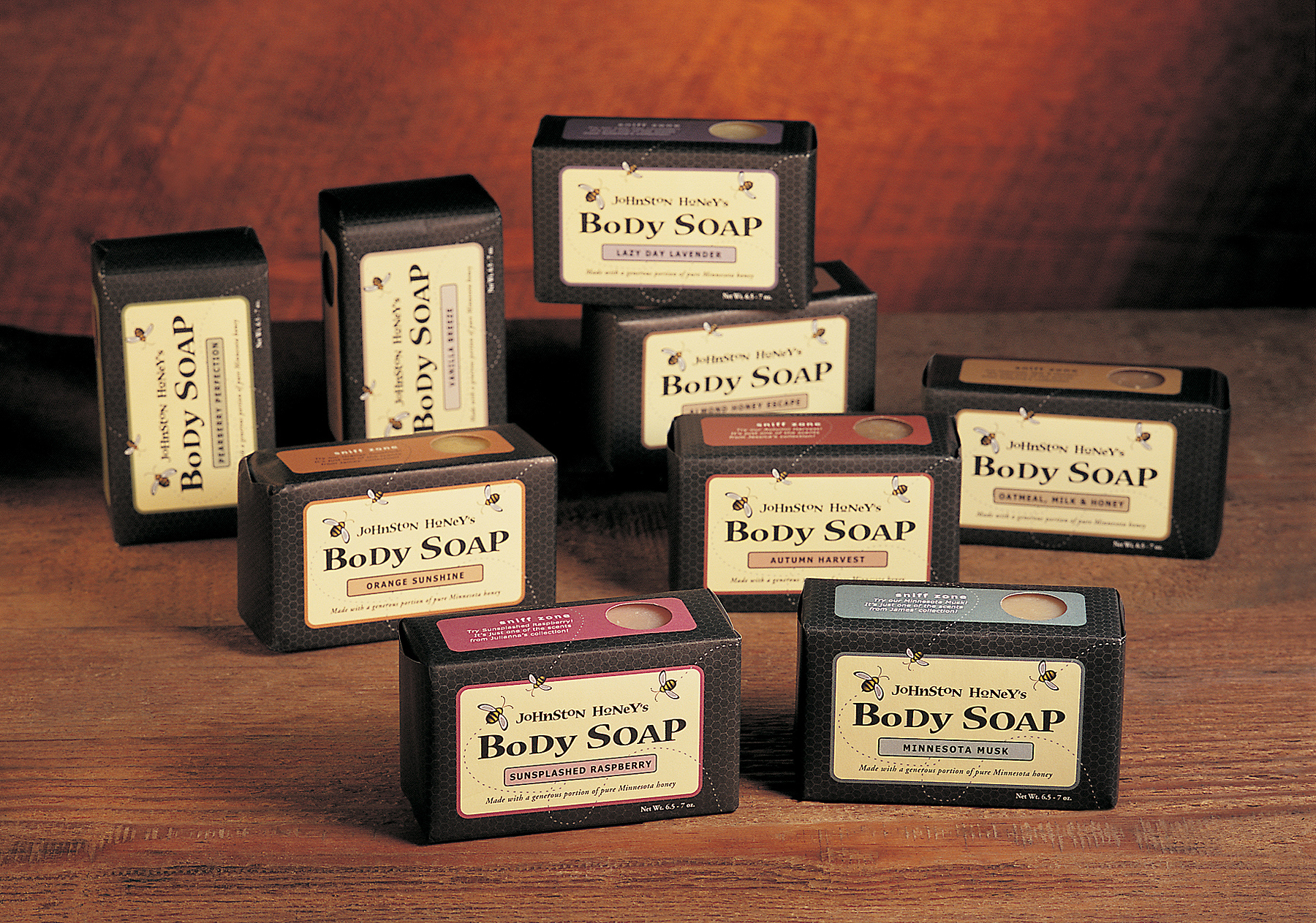 Building upon the initial soap line's success, a new children's soap line was launched the following year. These bars were smaller, and the black honeycomb background replaced with punchier, fun colors. New, playful names were developed (Wacky Watermelon, Glitzy Girl, etc.) and glitter was added to select bars. To increase the soaps' shelf appeal, temporary tattoos were also designed to include in each kids' soap package. Not only did the addition of the tattoos set these soaps apart from the competition, they helped encourage multiple purchases as kids sought to collect the whole tattoo series.